Toolmaking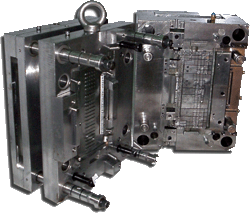 At AD Plastics we have our own "in house" tool-room where we can provide a complete solution from initial design through to finished components which suit your exact requirements. Using our in house tool-room has a huge advantage by saving time in tool completion, fine-tuning and re-sampling thus improving production lead time and efficiencies.
Our tool-room is equipped to carry out most maintenance requirements and the majority of repairs required on any tools are done in-house. Customers can be confident that the tools we manage will be available and operational when needed. We can carry out refurbishments and modifications of existing plastic injection moulding tools to overcome poor quality mouldings and reduction in process scrap levels.
AD Plastics also undertakes routine maintenance for customers tooling as part of our standard service.
Below is a plant-list which we currently have:
Spark Erosion Machine

Milling Machine

Centre Lathe With Universal Milling Head

Kress Centre Lathe

Full Measuring / Inspection Equipment Including Mitutoyo
Please do not hesitate to contact us on 01753 684777 or email us at info@adplasticsinjectionmoulding.co.uk for any tooling issues new or old.